RURAL MARKET IN INDIA & INVEST IN INDIA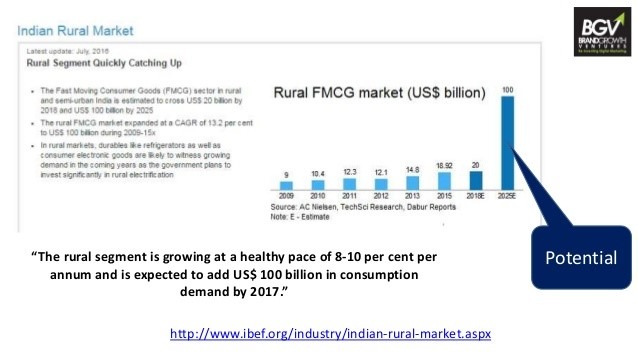 Importance of brand visibility in Rural Markets of India for high brand Recall & Pull. It's easy to ignore other languages if one dominant language makes up the majority. While English does make for the majority, there is a section that only consumes content in a regional language and this section could be your most important target audience. To be present Indic content we also encouraging websites to enagage consumers in multiple languages."WMN"is going to support in many ways through various resources. In Moral, Development of any
Country not only depends on the continuous development of the urban areas but also relies on the development of the small towns and rural areas. Government, as well as individual actions together, contribute towards the success of any country as a whole. The Major industries in Rural market segments are mainly covered with as
1)FARMING
2) ORGANIC FARMING.
3)LIVESTOCK FARMING
 4)FISH FARMING
5)FIVE STORES IDEAS ie  SEEDS & FERTILIZERS STORE
GROCERY STORES
ICECREAM & SWEET STORES
CLOTHING & CHEMISTS STORES.etc
6) DAIRY FARM BUSINESS
7)POULTRY
8)LOW BUDGET VILLAGE BUSINESSES
9)SMALL SCALE UNITS MANUFACTURING UNITS &
 10)CONSTRUCTIONS.
Rural marketing in Indian economy can be classified mostly under the following two categories −the markets for consumer durables consists of both durable and non-durable goods the markets for agricultural products which include fertilizers, pesticides, seeds, and so on.
Rural marketing in India is sometimes mistaken by people who think rural marketing is all only about agricultural marketing. Rural marketing determines the carrier of business activities from urban sectors to the rural regions as well as the marketing of various products manufactured by the non-agricultural workers from rural to urban areas."WMN" will provide a strong networking set-up & strategy to promote n highlited their products to serve in urban markets.
AGRICULTURAL GOODS & DISTRIBUTION –"WMN" VISION Rural Market accounts Rs.450 Billion annually.
This inputs includes like this, Fertilizers, Seeds, Pecticides, Insecticides and implements like tractors,tillers & threshers. Today, India is the largest producer of milk, fruits, cashew nut, coconuts and tea in the world. It is the second largest producer of wheat, vegetables, sugar, fish and third largest producer of rice and tobacco. In 2005 Hindustan Lever Ltd. earned Rs. 5,000 cr. from the rural market, which was 50% of company's total sales revenue.
Over this  Pandemic "COVID -19" industries have been severely affected this has been got a huge setback & badly impacted on direct employment revenue and needs all the attention as  maximum countries have been affected across the world ."WMN" is a press release distribution company covering 180 countries across the globe in 25 languages and partnering with 5000 publications worldwide, It has come with  ready live tools in conducting webinars, advertising social media, bloggers, etc.
"World Media Network" is playing a very important role where the news will be promoted across the world.  Press releases will be carried on the basis of industry standards as the news will be on Business development and the scope of growth within the countries and FDI's worldwide.
Social media marketing, Voice marketing, video conferencing, zoom in, Webinars , Talk shows and debates will be conducted.
The coronavirus has affected many businesses and the brand image of the organization , The brand recall and the awareness has to be done so that the trust of the company is there for the customers , WMN  is ready to give support plans for the brands and is also going to introduce their policies of insurances, finances along with other solutions.  It will also help in….The reach of Media and Information Technology has push up the graph of the rural people awareness about the likings, the choices, the availability, the behaviour and the paying capacity. Rural market is undergoing a transformation and is luring multinational companies to market their products in this segment. For any marketer, the key to success in this market is to understand the psyche of the rural consumers, which is completely different from that of their urban counterparts. The only constant thing in an evolving market is the change in consumer dynamics in the market. According to sources out of 504 million active internet users today Rural localities are remarkable figures of 277million internet  users which is sign to right  approach for products promotion in major selling & buying in the rural market of India.
SCOPE- INVEST INDIA – "WMN" VITAL ROLE IN TERMS OF FDI
"WORLD MEDIA NETWORK" is playing an important role in all the categories and sectors in terms of FOREIGN DIRECT INVESTMENT segment.
 " WORLD MEDIA NETWORK" is venturing into a Press Release distribution Company  & covering over 180 Countries and more than in  twenty-five languages across the World. Covering Digital News, Television, Print, Radio, Billboards, Airports, Multiplexes,Talk shows ,webinars, live shows etc.Press releases are based on Industry standards and timely Coverages help in business development and scope of growth among  the countries and FDI's "WMN" is helping upcoming n existing businesses to grow within the perpetual business as the government is  working towards domestic and international Tie-Ups .
Most service-oriented industries need to be promoted through "WMN with direct and indirect participation and looking for opportunities for Franchising modules in the world.
There are two types of lead within the lead generation market: sales leads and marketing leads. A Sales lead is generated on the basis of demographic criteria such as FICO score (United States), income, age, home Income, psychographic, etc. These leads are resold to multiple advertisers. Lead generation describes the marketing method of stimulating and capturing interest in a very product or service for the purpose of developing a sales pipeline. Lead generation typically uses digital channels and has been undergoing substantial changes in recent years from the increase of the latest online and social techniques.