A"WORLD MEDIA NETWOK" PRESENTS FDI IN INDIA & SCOPE
FOREIGN DIRECT INVESTMENT (FDI) IN PUNJAB
Punjab, a state bordering Pakistan, is the heart of India's Sikh community. The city of Amritsar, founded in the 1570s by Sikh Guru Ram Das, is the site of Harmandir Sahib, the holiest gurdwara (Sikh place of worship). Known in English as the Golden Temple, and surrounded by the Pool of Nectar, it's a major pilgrimage site. Also in Amritsar is Durgiana Temple, a Hindu shrine famed for its engraved silver doors.Population 2.5Cr.&22 Districts.
Districts List - Districts of Panjab
Amritsar
Barnala
Bathinda
Faridkot
Fatehgarh Sahib
Fazilka
Ferozepur
Gurdaspur
Hoshiarpur
Jalandhar
Kapurthala
Ludhiana
Mansa
Moga
Muktsar
Nawanshahr (Shahid Bhagat Singh Nagar)
Pathankot
Patiala
Rupnagar
Sahibzada Ajit Singh Nagar (Mohali)
Sangrur
Tarn Taran
Tractors and auto components.
Agro-based industries.
Bicycles and bicycle parts.
Chemical products, food products.
Light engineering goods.
Pharmaceuticals and textiles
Punjab-FDI Investment Present Scene
"WMN"BROAD VIEW & Business Support.
"World Media Network" is helping upcoming and existing businesses to grow as the government is supporting the business in  increasing their work towards the domestic as well as international Tie-Ups. Service-oriented industries need to be promoted with direct and indirect participation for Franchising modules in the INDIA and "WMN" would help them to connect with the brands as well the investors and venture capitalists to increase the growth of the company in future.
Punjab's agricultural land is rich and productive. The state is also known as the 'Bread Basket of India' and led to first Green Revolution in the country. By 2025, it is expected that the state will be among the leading producers of non-food grains as well as exporter of various agri-products. Total food grain production during 2018-19 stood at 31.53 million metric tonnes as per state's economic survey 2019-20. Horticulture production in the state reached 7,342.12 thousand metric tonnes in 2018-19, as per the third advance estimates. Basmati rice is the most exported commodity from the state. Its export reached US$ 597.22 million in FY19 and US$ 471.72 million between Apr-Dec 2019.
The state has emerged as a key hub for textile-based industries including yarn, readymade garments, and hosiery. With the development of apparel parks, favourable textiles policy and other incentives for the creation of textile infrastructure, the state offers opportunities for investment.  State is the source of 95 per cent of India's Woollen Knitwear production, 85 per cent of India's sewing machine production and 75 per cent of India's sports goods production.
In FY20 (till December 2019), Punjab exported cotton yarn worth US$ 349.47 million and ready-made garments (manmade fibres) worth US$ 157.09 million.
Punjab & FDI Major Announcements
Centre sanctions Rs.29,695 Cr.of CCL for Punjab
Punjab Govt gives Rs,395 cr Subsidy to purchase farm equipments & to manage Paddy residual.
Punjab Cabinet approves new sand & gravel policy.
**Targeted Industries Key sectors**- "WMN"KEY ROLE.
"World Media Network" is playing an important role in all the categories and sectors, "WMN" is a Press Release distribution company covering over 180 countries covering twenty- five languages across the world . it has ventured into Digital News, Television, Print, Radio, Billboards, Airports, Multiplexes, Talk shows . Press releases  are based on industry standards with  timely coverages and promoting the  business development of FDI and the scope of growth in the country.
Tractors and auto components, agro-based industries, bicycles and bicycle parts, chemical products, food products, light engineering goods, pharmaceuticals and textiles
Recent Developments:
Total merchandise export from Punjab stood at US$ 6.03 billion in FY19 and reached US$ 4.055 billion during April-December 2019.
During 2019, Punjab Government received 57 Industrial Entrepreneur Memorandum Intentions (IEMs) with proposed investment of Rs 1,843 crore (US$ 263.70 million).
During 2018-19, Punjab had 199 Government colleges, 179 private aided colleges, 10 Government universities,15 private universities and one deemed to be universities.
In 2018-19, 4,100 kms of railway tracks was commissioned, which included 1,000 kms of new lines, 1,000 kms of gauge conversion, and 2,100 kms of doubling.
Gross Enrolment Ratio for higher education in the state reached 30.3 in 2017-18.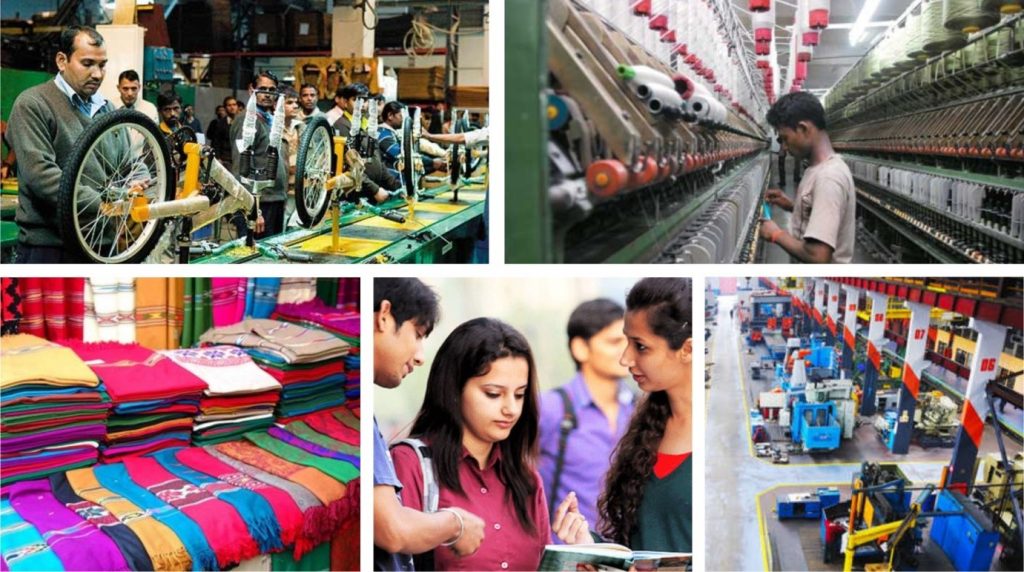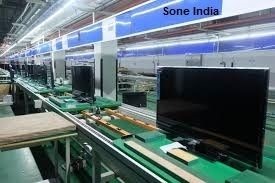 Punjab Govt Departments & Important Links
| Sr. No. | Department Name | Sr. No. | Department Name |
| --- | --- | --- | --- |
| | | | |
| | | | |
| | | | |
| | | | |
| | | | |
| | | | |
| | | | |
| | | | |
| | | | |
| | | | |
| | | | |
| | | | |
| | | | |
| | | | |
| | | | |
| | | | |
| | | | |
| | | | |
| | | | |
| | | | |
| | | | |
| | | | |
| | | | |
| | | | |
| | | | |
FDI PPT ( Attachment Area)